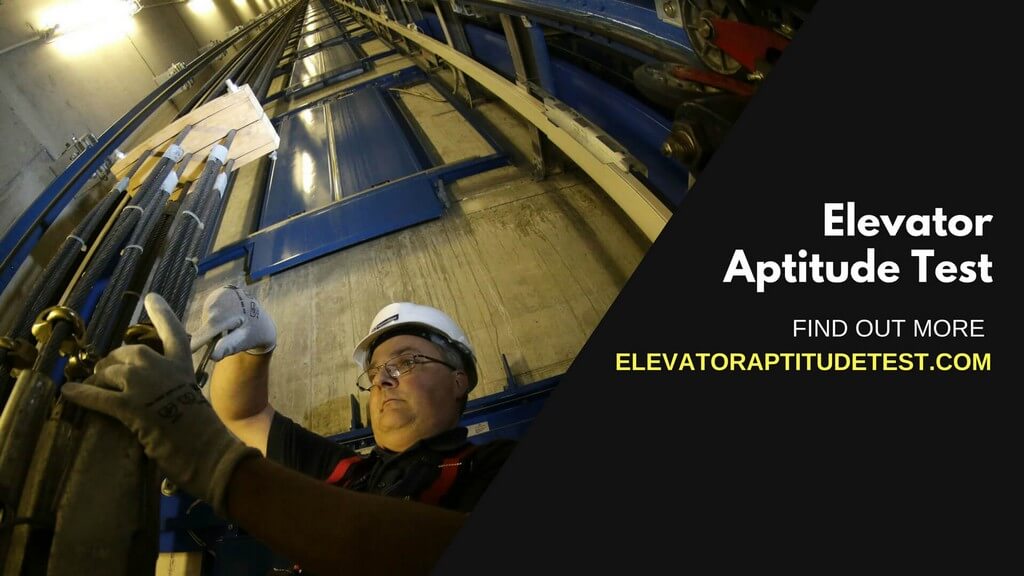 This site is here to give you a comprehensive overview on how to start your career as an Elevator Installer and Repairer. We outline all the steps needed to apply to your Elevator Constructor Apprenticeship and tips on how to excel. This is an extremely lucrative career for path for those who want to work in the trade industry. As the payout is big, the acceptance rate is not easy. One of the biggest hurdles is the Elevator Industry Aptitude test. Learn more about the test and how to prepare.
---
Quick Facts: Elevator Installers and Repairers
 2017 Median Pay
$79,480 per year
$38.21 per hour
Typical Entry-Level
Education
High school diploma
or equivalent
Work Experience
in a Related Occupation
None
 On-the-job Training
Apprenticeship
 Number of Jobs, 2016
22,100
 Job Outlook, 2016-26
12% (Faster than average)
Employment Change,
2016-26
2,700
---
FAQ's
What Does an Elevator Installers and Repairers Do?
Elevator installers and repairers, also known as elevator mechanics and elevator constructors, is responsible for installing, fixing, and maintaining elevators, escalators, moving walkways, and other lifts.
---
Where Does an Elevator Mechanic Work?
Elevator installers and repairers work in a variety of settings. Anyone going into this industry should be prepared to work in cramped conditions inside crawl spaces and machine rooms. You will likely need to work in elevator shafts which includes exposure to heights.
---
What Are the Hours like for an Elevator Installer and Repairer?
Most Elevator Installers work full-time. Don't expect typical hours with this job. Many repairers often work overtime when essential there needs an essential repair. These calls can come in 24 hours a day.
---
How Do You Become an Elevator Installer and Repairer?
Almost all elevator installers receive their training through an apprenticeship. Currently, 35 states require elevator mechanics to hold a license with this number growing. Learn more about the apprenticeship application process, Elevator Apprenticeship Aptitude Test and interview.
---
What Is an Elevator Mechanic Salary?
An average Elevator technician salary is $77,350 with the top 10% earning $111,370. There are about 19,700 elevator mechanics in the field. An elevator mechanic apprentices salary ranges from between $18 to $27 per hour. The starting pay for apprentices is about 50 percent of what completely trained elevator installers and repairers earns. That being said, their pay increases as they get further along in their apprenticeship. It is common for apprentices to also be certified welders and then they will receive higher pay for welding as well. An assistant mechanics, according to the union contract, will receive 80 percent of the pay rate a journeyman elevator installers and repairers receives. Elevator installers and repairers salary is one of the highest paid blue collar jobs. This career is an amazing opportunity for those with only a high school diploma.
As of May 2017, the median annual wages for elevator installers broken down by industry were as follows:
Government Worker
$94,030
Building equipment
contractors
$79,030
Educational service providers;
state, local, and private
$64,200
---
What Is the Job Outlook for Elevator Mechanics?
As of 2016, Elevator mechanics held 22,100 jobs. The largest employer of elevator installers and repairers was building equipment contractors. Employment of elevator installers and repairers is projected to steadily grow at a rate of 12 percent from now to 2026. With the growth of the real estate industry, new installation and maintenance of elevators and escalators is expected to spur the demand for trained mechanics.
---
What Are Some of the Duties of an Elevator Mechanic?
Elevator installers and repairers typically do the following:
Read and interpret blueprints to figure out the layout of system components of a target system
Select the needed equipment and tools for installation or repair
Assemble an elevator cars from start to finish including an elevator's platform, walls, and doors
Connect all electrical wiring to adjoining electric motors and control panels
Troubleshoot all newly installed equipment to ensure that they meet industry standards
Carefully test each part (brakes, motors, switches, and control systems) for malfunctions
Remove and replace defective parts by dismantling elevators and escalators
Perform preventive maintenance, including oiling and greasing specific parts, replacing worn out pieces, and making equipment adjustments for optimal performance.
Maintain safety compliance by doing periodical check ups.
Keep detailed service records of all check ups, annual maintenance and repair tasks
---
Can You Specialize within the Elevator Industry?
Elevator mechanics typically specialize in installation, maintenance, or repair work. This is primarily because each specialty requires different strengths. Maintenance and repair work typically requires more electronic, hydraulic, and electricity knowledge. Currently, elevators have computerized control systems, this results in more complex troubleshooting than in the past. Those who specialize in elevator maintenance usually have the same set of elevators they are responsible for servicing.
---
Do You Work Alone or in a Crew?
Depending on the setting you chose you might work in a team or individually. A service crew normally handles major repairs, like: replacing cables, doors, control systems, machine bearings. A service crews will also usually come in and modernize existing elevator systems. This is a bigger job which requires electric motor replacement, hydraulic pump, and control panel installation. That being said, workers often work alone when troubleshooting smaller problems, or conducting scheduled maintenance check ups.
Learn about how you can start your career as an elevator constructor and pass your Elevator Aptitude Test.
---
Do I Need to Be in Good Shape to Become an Elevator Constructor?
Working as an Elevator installers and repairers is a physically demanding job. Expect to stand a majority of your work day and lift items that can weigh between 50–200 pounds. If you are scared of heights, get claustrophobic in small spaces, or don't like getting your hands dirty, then this is not the job for you.
---
Should I Join an Elevator Union?
One of the perks of this job is that most elevator installers and repairers are members of a union. There is no one union which covers all elevator installers and repairers. But, the largest organizer of elevator workers is the International Union of Elevator Constructors.